TODAYS WORK
4/8/03
Mark & Paul Collaborate......
---
Todays work is a story of two pipes. It all started innocently enough when one of the members of ASP asked for additions to a list he was compiling of N. American pipemakers. Paul and I were both included; trying to be helpful I sought to clarify his exact position on the list and suggested that he also be listed as a maker of fine doorstops. I was just trying to be helpful and give my pal Paul a little more attention for his work......
Sadly, the list maker didnt think it was proper to give Paul any more attention than anyone else. I was indignant and furious at this response and penned the following to him:
He said,"Well, I didn't change Paul to a doorstop maker"
My suggestion was the following: Then possibly a small addendum could be added somewhere that would could say:
" Paul Bonaquisti, historically most noted as a friend of Mark Tinsky
and John Eels. Provided them with excellent assitance and support
hauling briar bags and moving heavy machinery. Made some insignificant
contributions to pipe making and is principally noted, in that respect,
for having one of his pipes in the Metropolitan Museum of Art. Where
it sits today propping open the front door...."
Now I thought this good publicity for Paul not every pipe maker get his work into such a prestigious museum! But for whatever reason he took umbrage to this post and snidely replied back in not very original fashion:
Due to a cyberglitch, the Usenet newsreader jumbled up Mark's original post.
Fortunatley, Mark copied me on the original, and here is what he intended to
say:
" Paul Bonaquisti, historically most noted as former friend of Mark Tinsky and
best friend of John Eells. Paul provided Mark with excellent assitance and
support during the week when Mark was a highly regarded pipemaker.
Taking advantage of his naivete, Mark feigned bad hips, and convinced Paul to
haul briar bags and move heavy machinery for him, all the while selling this
extremely trusting and talented pipemaker all of his cracked blocks at $50
each... telling him they were Corsican. Paul, who never *really* trusted Mark,
slipped these defective blocks back in to Mark's private stash, where he
happily used them, and due to poor quality control and liberal use of Plastic
Wood, never knew the difference.
Mark also promised that he would share with Paul all of his most guarded
pipemaking secrets... Of course, that didn't take long, and obviously none
were ever used.
Though Paul made some insignificant contributions to pipe making while hanging
around with Mark, once he realized how superiror he was in both intellect and
craftsmanship to his former friend, he struck out on his own, with the
encouragement of his good friend John Eells, and never looked back.
Mark, who is principally noted for his poor interpretations of Bonaquisti's
standard shapes, quickly faded in to oblivion, being devoid of Bonaquisti's
design and construction influence. In that respect, none of Mark's pipes are
in the Metropolitan Museum of Art, or any museum for that matter.
They are however known as a good untilitarian pipe, with about the same amount
of emotional attachment as a corn cob, and excellent for smoking such beloved
tobaccos as Condor, Erinmore, and Raspberry Supreme, or a mixture thereof."
Talk about biting the hand that has fed you !!!
But being a good friend, I decided to turn the other cheek, and not let his slings and arrows effect me at all. I figure Paul was just projecting and was actually embarrased about the pipe in the museum, and being his best friend I decided to save his butt. Here s the story that follows:
Just got back from NYC, the city that never sleeps, took the red
-eye...... Bribed a guard at the Musuem of Modern Art to let me into
the basement and followed many long corridors that led me to the
door to the in house sewage treatment plant. There I found Paul s
pipe working hard, holding back the open door.
When no one was looking, and believe me no one was even thinking
of looking, I filched the doorstop, I mean pipe, or to be more
exact, briar block with connected holes and a stem, and stuffed it
into the large greatpaocket of my jacket and fled the Met.
I heard muffled laughter behind me as I skedaddled, something like
" You think he took that ugly piece of..... " followed by more
and louder laughter!
Well I now have Maestro Bonaquistis Museum piece in my possesion and
so that no one laughs at it any more I m going to do some
"minor" touch up on it just to bring it up to snuff from the
hard practical use it s been put to.
So after spending all nite on the plane I set to work today to work on the pipe. Here are some before and after shots:
Shot #1 is the pipe as I found it. Notice the high quality duct tape ferrule. I asked Paul how he ever came up with that idea. He told me it was not a ferrule at all but a patened TM idea he had for use on all of his pipes to take into account variations in humidity in various parts of the country that may make the stem loose. He also added now he can cut the tenons on his pipes any size he wants as the duct tape holds them in pretty good! His pipe also include intstructions Right on them! As to how they can be best used another revolutionary idea!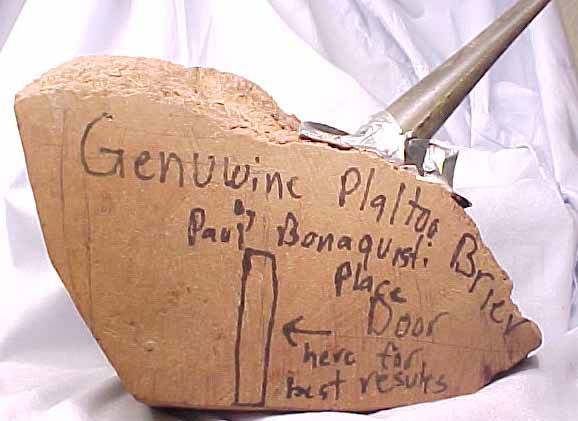 Well after a couple minor tweaks I came up with this. As soon as I m rested I ll try to sneak it back into the musuem: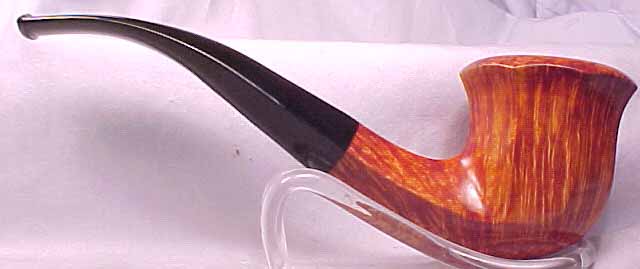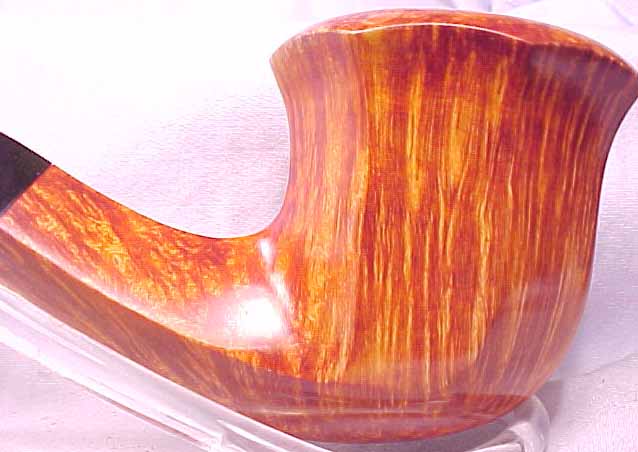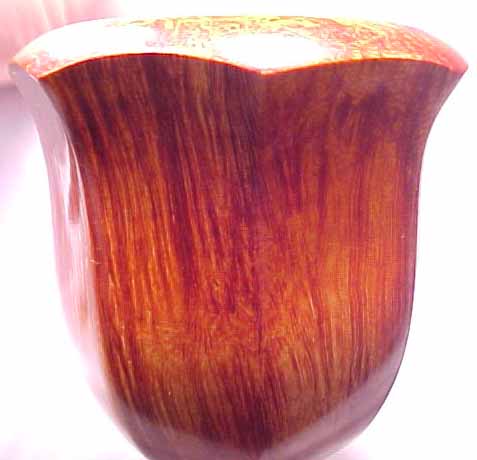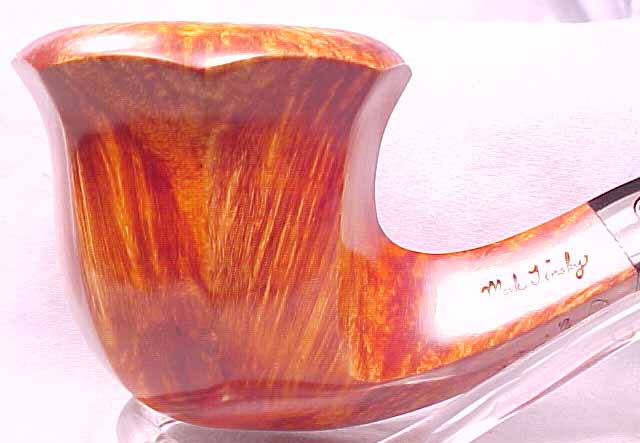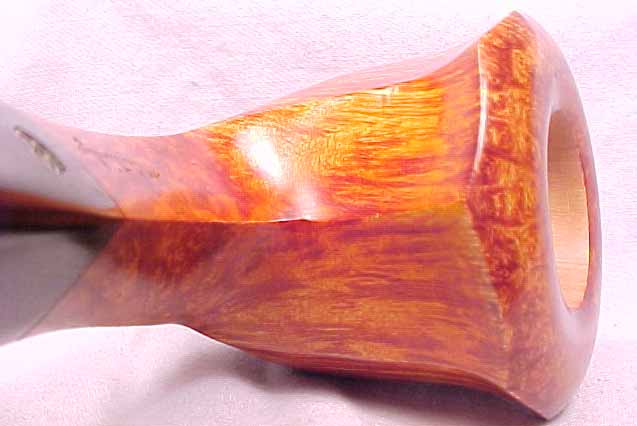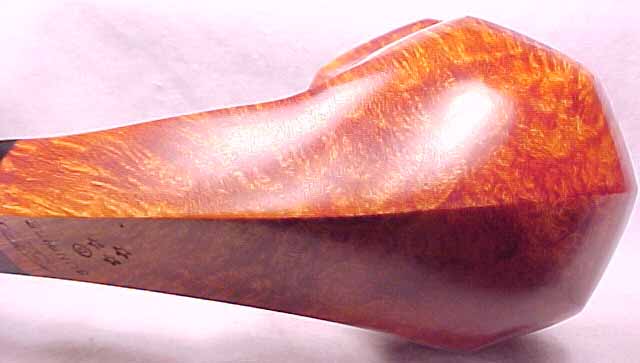 Here s pix of me and Paul the last time we got together, I m on the right.....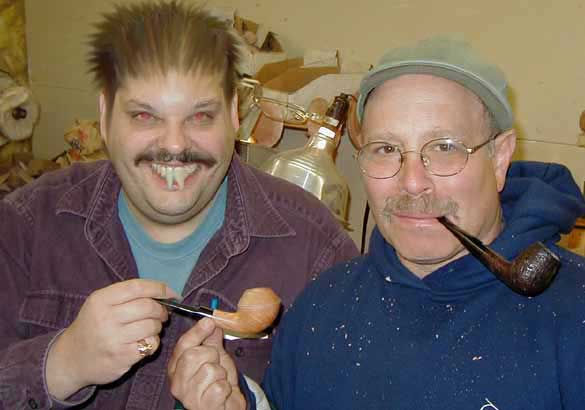 This series continue with Pauls reply/ :
And finally with the third part
PREVIOUS TODAY S WORK