TODAYS WORK
12/9/06



---
Todays work consists of a whole bunch of stuff!
I ve just been too busy to put this up in any kind of an orderly fashion. As it s the Christmas pipe buying season I ve been trying to get as many new pipes on the web as well as fill Christmas pipe orders and keep the special order list from getting further out of hand.
Special Orders:
The first special order is for good customer Bruce Collins. He saw back on TW 4/12/05 a Magnum ASP club pipe Volcano that he wanted reproduced in a Size 5. I cut up 4 blocks and threw them away for cracks. The 5 th I hit paydirt, the first 4 star Black & Tan:


The second pipe is for new customer Freddie Lea who likes a high contrast stain. I made him a freehand with 2 star grain in a Cabernet finish:


Going back to the 2006 ASP Club pipe a three star Sunrise for Rudy:


New Pipes for the Web Store:
Every year I like to do a Christmas pipe with a custom silver band that a silversmith crafts for me. This year's recipient is a two star tanblast in a new matte finish:

SB 635 A one star Hex Cal ( sold )


SB 634 Size 5 Cherry wood

SB 633 Size 6 Two Star Billiard


BT 170 Black & Tan ( sold )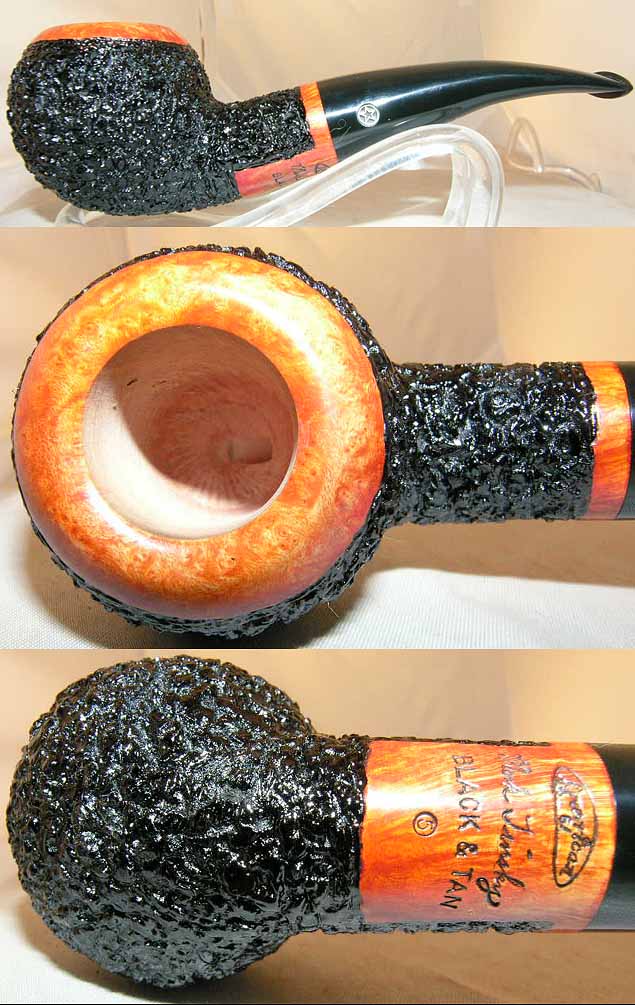 UB 507 Three Star Size 4 Horn


UB 508 Two Star Size 5 Cabernet


Previous Today s Work
Join the Mailing list and receive advance notice on new pipes?
Write me at:
Include the word "subscribe" somewhere in the e mail and Ill probably get the idea.....